What is our "Letters to Santa?" charity? It's a program where poor kids get presents. Here's how it works and here is how you can help…
We chose a school we have worked with before- the Lara Agustin Academy in the "Back of the Yards" neighborhood at 46th & Wolcott in the city. 90% of the kids are 1st generation immigrants from families that live at or below the poverty level. Each kid in grades K through 3rd grade write a "Letter to Santa" asking for 3 things for Christmas.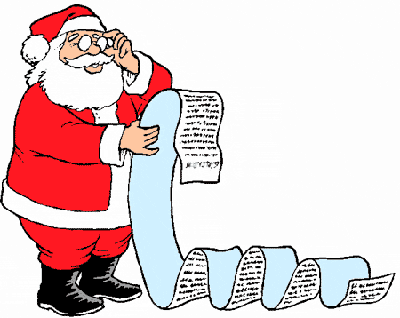 We pick up the letters, organize them by room and toy type, buy each child 1 toy on their list, then wrap them and tag each one. The school then has a "presentation" assembly where the kids unwrap their presents. Each child gets what he asked Santa for!
Christians should be known for their giving. Some churches are always trying to squeeze in a religious "angle" into charity work or receive some press or benefit to their church. Like giving people a free can of coke on the street corner and then inviting them to church. But sometimes we need to give simply because there is a need -simply because we can better someone's situation. Clearly Jesus did not share the credit compulsion in Matthew 6…
"Be careful not to practice your righteousness in front of others to be seen by them. If you do, you will have no reward from your Father in heaven. So when you give to the needy, do not announce it with trumpets, as the hypocrites do in the synagogues and on the streets, to be honored by others. Truly I tell you, they have received their reward in full. But when you give to the needy, do not let your left hand know what your right hand is doing, so that your giving may be in secret. Then your Father, who sees what is done in secret, will reward you."
GPI, or Global Proclamation Initiative, is the missions program of Southbridge Church that focuses supporting missions endeavors that focus on proclaiming the life changing Gospel and love of Christ to the entire world. In Mark 16:16 Jesus left us with this mission, "Go into all the world and preach the gospel to all creation." While we at Southbridge Church have several programs to accomplish that mission in Orland Park and the surrounding suburbs, GPI is our means of supporting those who are proclaiming the Gospel far beyond the four walls of our church. Below you will find featured several of the missionaries and endeavors we support as a church.
Bob & Debbie Long - Phillipines
Currently part of Southbridge Church with Bob serving as our Director of Family Ministries, Bob & Debbie plan to become missionaries to the Philippines within the year 2014. Bob and Debbie bring 40 years of ministry experience as a couple to this exciting new adventure. Besides a career of vibrant and effective youth ministry, Bob also currently serves with Converge MidAmerica as Director of Student Ministries & Leadership Development. Toward the end of this summer they plan to begin discipling youth pastors and leaders in the Philippines. Bob will also teach youth ministry and leadership development at the Cebu Graduate School of Theology. To read more about their story and how you can join us in supporting them, please visit their Converge Worldwide Page