Southbridge Church is a Christian, non-denominational church in Orland Park, bordering both Oak Forest and Tinley Park. The church can be found 1 block west of Harlem on Wheeler Drive (155th Street). Our tall, cylindrical building has been an Orland Park landmark for over 3 decades.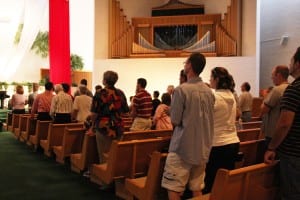 Southbridge is a smaller, growing, family oriented church. Definitely not the corporate  'warehouse' church. Its easy to find a place here, connect on the ground floor, and start your own tradition. Read a bit more about us below...
What probably stands out most about Southbridge is our spirit. We love attending Southbridge because there is a real sense of family, without being 'us four, no more.' We love walk-ins! The Christian story is God telling us how much He loves imperfect people, and we want to pass that love on when you walk in our doors. You won't find cold, pretentious, and unfriendly in our sanctuary.  And we value your space when you visit- no flash-mobbing or interviewing.
Our motto is that it is better to bless a second chance than judge the past. So if you are worried about the roof falling in or something because you are not that religious or churchy, don't be. Echoing the words of Pope Francis, "Who am I to judge?" We too have experienced God's life changing grace.
Southbridge is a true multi-generational church. In a typical worship service you'll see an even distribution of  teens worshipping alongside seniors, young adults, singles, couples, and families. We are small enough to care, big enough to make a difference.
We like to think that we've kept the sacred things sacred- like reverence for God, feeling His presence in church, the Bible, the sacraments like communion, and worship. And we like to think we've kept up with the times with our music, media, and applying the messages to encourage people living in the real world in 2019. 
Our goal as a church is to be a conduit to help you connect with the God, and help people find answers to your spiritual questions about God and the Bible, so that you can be a better person by loving God and others more.
A Non-Denominational Church in Orland Park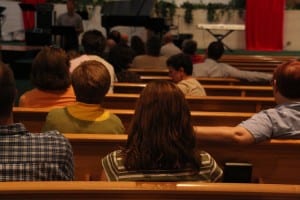 You'll find friendly people in the atrium following the service, free coffee and scrumptious goodies at our coffee bar. Your kids will be welcomed by caring leaders who've all completed a state and federal background check in our awesome SouthBridge Kids children's ministry. Here you don't have to worry about being singled out as a visitor or being pressured to give money. Come on in, look around.
Non-Denominational – To us, being a non-denominational church means that you are welcome no matter what your religious background, beliefs, or lack thereof. Attending SouthBridge Church in Orland Park doesn't mean that you're changing or abandoning your family's religious heritage. We are a self-governing church without a hierarchical denomination controlling our decisions. As such, we are a Bible-based Christian church, and focus on God's Word and how it can change your life. 
Below is our doctrinal beliefs. You will find it quite standard for Christian churches.
We believe that the Bible is the Word of God, fully inspired and without error in the original manuscripts written under the inspiration of the Holy Spirit, and that it has supreme authority in all matters of faith and conduct.
We believe that there is one living and true God, eternally existing in three persons, that these are equal in every divine perfection, and that they execute distinct but harmonious offices in the work of creation, providence and redemption.
We believe in God- a real being with certain characteristics that are defined in the Bible and evident in the world around us. We do not believe that He is a blank canvas on which anyone draw Him the way they want and have Him appear that way in the next life. God is an infinite, personal spirit. We believe that He concerns Himself mercifully in the affairs of each person, and that He hears and answers prayer.
We believe in the Holy Spirit who came forth from the Father and Son to remind us of God's standards and let our consciences know when we are out of God's will. It is the power of God's Spirit that changes us for the better when we have faith in God.
We believe that mankind was created all-good in the image of God. God allowed and allows mankind to have free choice. mankind chose to disobey God and has fallen short of God's standards. This "falling short" has resulted in alienation from God, both personally and globally. The result is that our world and lives are distanced from God's intent, will, and protection- bad things now happen to good people and we now have a sinful nature existing along with God's goodness. God still allows mankind free choice, even if that means allowing people to do evil.
We believe in Jesus Christ, God's only begotten Son, conceived by the Holy Spirit. We believe in His virgin birth, sinless life, miracles, teachings, crucifixion, bodily resurrection, ascension into heaven, and personal visible return to earth in the future. We believe that Jesus Christ died for our falling short of God's standards in our place, and that forgiveness is now available from God through faith in Jesus Christ.
We believe in the universal church, a living spiritual body of which Christ is the head and all regenerated persons are members. We believe in the local church, consisting of a company of believers in Jesus Christ, baptized on a credible confession of faith, and associated for worship, work and community. We believe that God has laid upon the members of the local church the primary task of reaching the world with the love of God.
We believe that Christians should live for the glory of God and the well-being of others; that their conduct should be blameless before the world; that they should be faithful stewards of their possessions; and that they should seek to realize for themselves and others the full stature of maturity in Christ.
We believe that the Lord Jesus Christ has committed two ordinances to the local church: baptism and the Lord's Supper. We believe that Christian baptism is the immersion of a believer in water into the name of the triune God. We believe that the Lord's Supper was instituted by Christ for commemoration of His death. We believe that these two ordinances should be observed and administered until the return of the Lord Jesus Christ.
We believe that every human being has direct relations with God, and is responsible to God alone in all matters of faith; that each church is independent and must be free from interference by any ecclesiastical or political authority; that therefore Church and State must be kept separate as having different functions, each fulfilling its duties free from dictation or patronage of the other.
We believe that local churches can best promote the cause of Jesus Christ by cooperating with one another in a denominational organization. Such an organization, whether a regional or district conference, exists and functions by the will of the churches. Cooperation in a conference is voluntary and may be terminated at any time. Churches may likewise cooperate with interdenominational fellowships on a voluntary basis.
We believe in the personal and visible return of the Lord Jesus Christ to earth and the establishment of His kingdom. We believe in the resurrection of the body, the final judgment.
Jesus advised us to "Love the Lord your God with all your heart and all your soul and all your mind, and love your neighbor as yourself (Luke 10:27)." His last words to his disciples involved His will for us to "make disciples of all nations (Mt. 28:19)."
Our vision for SouthBridge Church is first and foremost fulfilling Christ's vision for the church here in Orland Park, our greater Chicagoland community and the world. Below are some Biblical directictives that serve as basis for how SouthBridge Church seeks to love God and others in the southwest suburbs and beyond….
Above all other things, we want to be a healthy church. The New Testament teaches that church should be a place of peace and harmony (Col. 3:15, Phil. 1:27). No fighting or drama. We clearly and transparently articulate what we believe and the policies by which we are governed.  The Biblical model of Matthew Chapter 18 directs us to ensure that we resolve any and all issues with others quickly, directly, and with the aim of reconciliation.
The New Testament teaches that the 'church' actually consists of people and relationships and not the building, worship service, or any program (I Cor. 3:16). We will constantly connect people to each other. The Bible teaches that it is the duty of each Christian to be involved in the lives of other Christians and the community in which we worship. (I Thes. 5:11). We are and want to continue to be a church of real friendships.
Jesus died for us 'while we were still sinners' (Romans 5:8)- He didn't wait until we were perfect. We value accepting, loving, and having a place for everyone, regardless of belief, background, spiritual level, race, age, marital status, etc. We want to be known by what we are for, and not what we are against. the Bible tells in in James to love, and leave the judging to Him. 
Our real niche is communicating the Christian message in a way that relates to everyday life in the southwest suburbs and is understandable to people of all generations both in and outside of the church (I Cor. 9:22).
The primary job of church leaders in the New Testament is to "watch over people's souls." As Jesus said, they should be servant leaders involved in the lives of the people whose souls they watch over. Leadership in the New Testament was always plural (Titus 1:5) (I Tim. 3).
The New Testament model of ministry shows the church as a ministry team. This means that God calls, authorizes (I Peter 2:9), and empowers ordinary people in the church for the work of the ministry. The pastor's job is to equip and mobilize them to this work instead of being a one man show (Eph. 4:11, 12).
II Corinthians 5:20 tells us that we are to represent Christ. That means our primary message will be the availability of God's love and forgiveness- not condemnation or guilt. Fault forgiving and forgetting- not fault finding. We will strive to model this grace in all we do and teach.
We believe that there are gray areas where the Bible is silent and leaves judgment of right and wrong up to the individual. Romans 14 teaches that there is freedom and grace in these areas and that we should neither judge others nor tempt fellow believers. We will not legislate morality in these areas. Instead we will be assisting people to protect their relationship with God and others.
We value having a place where everyone, at every spiritual level can spiritually grow. We feel that un-churched people and new believers in Christ grow primarily through teaching, whereas more mature Christians grow primarily through discovering their ministry gifts, and being trained to use and develop them to help others. Growth is evidenced by the fruit of the Holy Spirit evident in one's life, spiritual maturity, ownership of one's faith, and using one's gifts serving others in cooperation leadership and others in a local church (Eph. 4). We value offering a clear path where anyone can grow from the place of spiritually searching to a member and leader of the church.
About 1,000 years of the Holy Roman Empire, the Protestant Reformation, and the Pilgrimage to Plymouth has taught us that church and state don't make auspicious bed-mates. We stay out of politics, period. Southbridge Church will not be not affiliated with any political party or platform.
We believe that our faith in Jesus Christ is a bigger similarity than any political difference.  Our messages veer away from bringing up anything political. The Bible directs us to pray (I Timothy 2:2) for our political leaders (God knows they need it), and not endorse or protest them. 
The New Testament exhorts us to extend love and the Gospel message outside the four walls of our church. We want to begin with loving and serving those less fortunate in our own backyard, and then further to the "ends of the earth," regardless of race, age, color, etc (Acts 1:8).